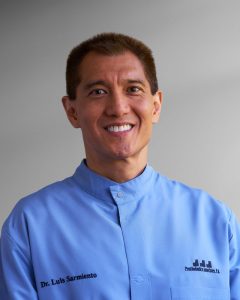 Luis Sarmiento, DMD
Dr. Luis Sarmiento, also known as "Butch" to his family and friends, is the fourth of five children born and raised in Manila, Philippines. His mom was an anesthesiologist and his dad was a cancer surgeon. His two older brothers are a medical surgeon and a general dentist. His sisters flank the boys, and they chose the banking or business profession.
Dr. Sarmiento came to the US to live and study at the age of sixteen. He began his undergraduate studies at Oklahoma City University, and obtained his BA in biopsychology from Rutgers University in New Jersey. Although his dream profession was to be a pilot, he ended up studying dentistry and ultimately earned his DMD and specialty certification in Prosthodontics from Tufts University School of Dental Medicine in Boston. He is an assistant clinical professor at the Postgraduate Division of Prosthodontics. He has contributed to continuing education at various venues in the United States, Asia, and the Middle East. He also guest lectures at the University of New England College of Dental Medicine in Portland, Maine.
Since 1997, Dr. Sarmiento has been honored and privileged to work with his colleagues, staff, master ceramists, and technicians of Prosthodontics Associates to provide patients with outstanding restorations that are aesthetically pleasing and functional. In 2013, he received the award for "Excellence in Cultivating Comprehensive Care" from the Casco Bay Study Club, an affiliate of the nationally recognized Seattle Study Club.
In 2011, Dr. Sarmiento fulfilled a life-long quest, earning his general aviation Private Pilot's certificate. He is currently working on completing his complex rating. Dr. Sarmiento enjoys travel, food, movies, music, cars, planes, and visiting his family and friends in various countries.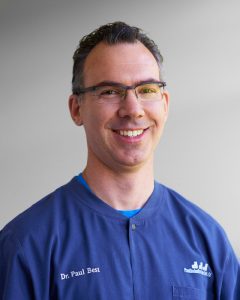 Paul Best, DDS
Dr. Paul Best was born in Lincoln, Nebraska, and is the son of a pediatric dentist and a homemaker. He grew up around dentistry, loves what he does, and is passionate about prosthodontics. Dr. Best is an avid Nebraska Cornhusker and college football fan. He loves the outdoors and has even worked for the Department of Natural Resources in Minnesota and on a wolf habitat recovery plan in the Selway-Bitterroot Wilderness in Idaho. Paul enjoys spending time with his wife and two children, playing tennis, Brazilian jiu-jitsu, target shooting, nature, fishing, antiques, and Nebraska Cornhusker football.
Dr. Best attended Gustavus Adolphus College in St. Peter, Minnesota, where he played soccer and studied biology and geology. He graduated from the University of Nebraska Medical Center College of Dentistry, and received his specialty certificate in Prosthodontics from the University of Missouri-Kansas City School of Dentistry. Dr. Best has been involved in private practice for over ten years and has taught dentistry at both clinical and pre-clinical levels. He believes in providing only the best possible care for his patients and his positive attitude spills over to the entire staff. You will enjoy working with Dr. Best to meet your dental wishes.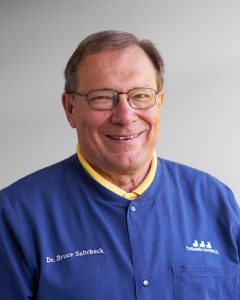 Bruce Sahrbeck, DDS
Dr. Bruce Sahrbeck received his dental training at the State University of New York at Buffalo. He completed his specialty training in Prosthodontics at Indiana University after spending two years with the Army Dental Corps in Vietnam. Dr. Sahrbeck has been practicing for over 30 years, and he offers a wealth of experience to his patients and fellow practitioners. He has lectured extensively in the United States and abroad, primarily in the field of fixed prosthodontics. Dr. Sahrbeck holds memberships in a number of professional dental associations, including the American Dental Association, the Maine Dental Association, the John F. Johnson Prosthodontics Society, and the American Prosthodontics Society.
When not working, Dr. Sahrbeck enjoys spending time with his wife and their 4 children and 3 grandchildren. You will also find him behind the lens of a camera.
Meet Our Team
Our amazing team of dental professionals at Prosthodontics Associates, P.A. is dedicated to helping you regain a healthy smile that functions as close to your original bite as possible. We work hard to provide you with a pleasant experience at our practice. Our team maintains a welcoming, modern atmosphere in which you will feel at ease by providing outstanding service to exceed your expectations. We welcome you to call us today to learn more about Prosthodontics Associates, P.A. and make your appointment with one of our talented prosthodontists and hygienists.
Check back soon to meet our friendly team!