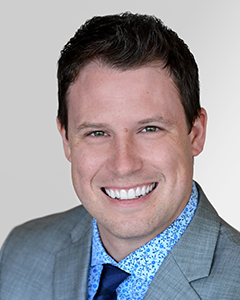 Wyatt Traina, DMD
Dr. Wyatt Traina grew up on the banks of the Medomak River in Waldoboro, Maine. As the son of a veterinarian and a marine mechanic, he frequently combines medicine and mechanics in day-to-day practice. In his spare time, Wyatt enjoys fishing, cooking, board games, and duck hunting. Dr. Traina also spends time painting scale models to hone his dexterity.
After earning a bachelor's degree in cellular and molecular biology from the University of Maine, Dr. Traina attended dental school at Boston University. He received advanced training in Prosthodontics at the University of California, San Francisco, where he took special interest in implant restorations and new technology for implant placement and fabrication. While at the University of California, Dr. Traina enjoyed working and teaching at the evening homeless clinic. Dr. Traina is also a captain in the Army Reserve, where he serves as a general dentist.
Dr. Traina has finally returned to his home state to deliver top-notch dentistry, and he will work with you to develop and carry out a treatment plan that will address your individual needs in a friendly and caring manner.