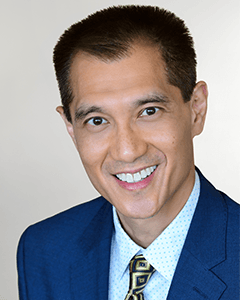 Luis Sarmiento, DMD
Dr. Luis Sarmiento, also known as "Butch" to his family and friends, is the fourth of five children born and raised in Manila, Philippines. His mom was an anesthesiologist and his dad was a cancer surgeon. His two older brothers are a medical surgeon and a general dentist. His sisters flank the boys, and they chose the banking or business profession.
Dr. Sarmiento came to the US to live and study at the age of sixteen. He began his undergraduate studies at Oklahoma City University, and obtained his BA in biopsychology from Rutgers University in New Jersey. Although his dream profession was to be a pilot, he ended up studying dentistry and ultimately earned his DMD and specialty certification in Prosthodontics from Tufts University School of Dental Medicine in Boston. He is an assistant clinical professor at the Postgraduate Division of Prosthodontics. He has contributed to continuing education at various venues in the United States, Asia, and the Middle East. He also guest lectures at the University of New England College of Dental Medicine in Portland, Maine.
Since 1997, Dr. Sarmiento has been honored and privileged to work with his colleagues, staff, master ceramists, and technicians of Prosthodontics Associates to provide patients with outstanding restorations that are aesthetically pleasing and functional. In 2013, he received the award for "Excellence in Cultivating Comprehensive Care" from the Casco Bay Study Club, an affiliate of the nationally recognized Seattle Study Club.
In 2011, Dr. Sarmiento fulfilled a life-long quest, earning his general aviation Private Pilot's certificate. He is currently working on completing his complex rating. Dr. Sarmiento enjoys travel, food, movies, music, cars, planes, and visiting his family and friends in various countries.